https://coderedlifestyle.com/wp-content/uploads/2018/03/Miles-Enhanced-Code-Red-Pancakes-Finished.jpe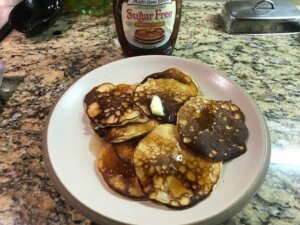 My husband, Miles, is a chef, and he's always playing around with recipes.
Recently he decided to experiment with my ultra-popular Code Red Pancakes recipe, and came up with something amazing:
Miles-Enhanced Code Red Pancakes!
They are delicious and filling, especially with the added fiber.
Here's a video of Miles and I demonstrating the recipe.
Below it, you can find the ingredients, recipe, and pictures of the macro and nutrient breakdowns.
Your new favorite meal by Chef Miles!https://coderedlifestyle.com/milescoderedpancakes/

Posted by Cristy CodeRed on Wednesday, March 28, 2018
Chef Miles-Enhanced Code Red Pancakes
1/4 cup sour cream
2 large eggs
1/4 cup blanched almond flour
1 teaspoon baking powder
1 teaspoon Fitness Fiber
Stevia or Splenda to taste
Yields ten 3½ inch pancakes
Directions
Put a skillet on high heat. Add a 1/2 tablespoon of butter (or a teaspoon of oil) and let it melt.
While that's happening, combine the sour cream, eggs, fiber, almond flour, and Stevia or Splenda.
Scoop pancake batter into 3½ inch-diameter circles.
(Keeping them smaller makes them easier to flip.)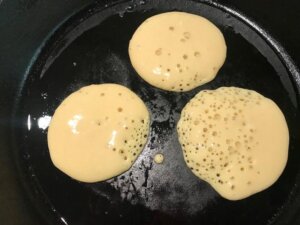 Flip the pancakes when they are firm and bubbling, as shown in the picture above.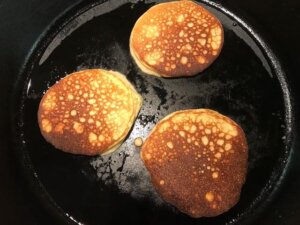 When cooked through, remove from skillet and repeat for the next batch, adding more butter or oil to the pan as needed.
Continue until the batter is used up.
Top with real butter and sugar-free syrup, or heavy whipping cream and almond butter, and enjoy!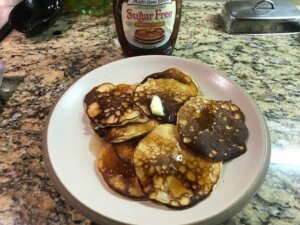 Calorie and Macro Breakdown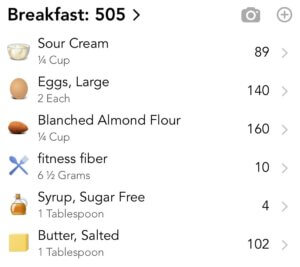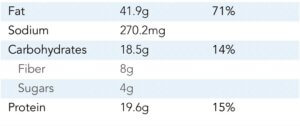 For more delicious recipes, pick up my second edition cookbook at CodeRedLifestyle.com/Shop!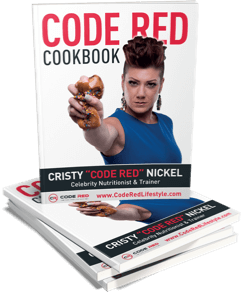 GROUP PROGRAMS AVAILABLE!
Would you and members of your church, company, or other organization, love to lose weight and improve your health as a team?
Click the button below to send us an email! Just mention you're interested in learning more about group programs, and we'll get your questions answered.