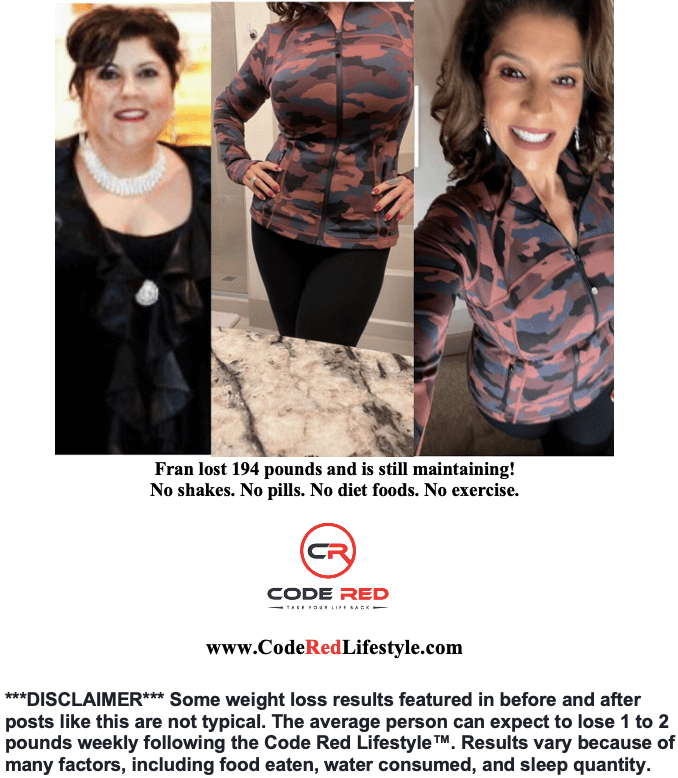 Fran recently celebrated two years in maintenance!
Two years of keeping off 194 pounds.
Two years of no more CPAP.
Two years of no more joint pain.
Two years of no more huffing and puffing.
Two years of no more hiding.
Read in Fran's own words what it took.
"I started Code Red with The January 2019 Challenge and fully committed from day 1! No cheating, no breaking the rules and no excuses! I've done the hard work but that hard work is NOT over and it never will be.
"You see, I made myself a promise that not only do I have to lose the weight, I have to KEEP IT OFF!! I have done just that! 194 pounds down for the last 2 years!!
"I went straight into the Code Red maintenance group and have been there the last 2 years! I know better. And you best believe that's when the REAL HARD WORK began! Make no mistake about it. Don't kid yourself! Everyone needs accountability, even in maintenance!
"My weight loss has changed EVERYTHING!! My quality of life is absolutely GRAND. Hell yes it's hard work! You have to make that decision and then make it again and again with every bite, every meal, every single day.
"I love the way I feel and look way more than I want the damn food. No more meds, no more CPAP, no more joint pain, no more huffin & puffin and no more hiding!! I'm done with it all and I've had enough! I'm here to tell you that if I can do it, so can you! You just have to want it bad enough!
"Make that decision and keep that promise you made to yourself! And then, make it again and again! Do Not sabotage all the good you've done by cheating or binge eating out of stress! Find helpful, positive things to do. Do things that make YOU feel good. And do it without the darn food!
"Grateful for this community, Code Red and for feeling like a million bucks every day and for the rest of my life."