Please Note: All of the products I recommend are vetted and "Code Red Approved". Some products may contain affiliate links, which means I will receive a small commission if you purchase. This does not change the price for you in any way. I only recommend top-quality products that I would use myself.
CODE RED COOKBOOK
(2nd edition: July 2017)
The cookbook is $24.95 (+$3.95 shipping) and it includes:
131 pages
8.5 x 11, glossy front and back
123 "Cristy-approved" recipes
a week's worth of menus (breakfast/lunch/dinner)
"Cristy's Notes" at the bottom of some recipes talking about how to alter or modify the dish.
Some written personal thoughts from Cristy about this lifestyle
The book will be mailed to you via USPS in a "stay flat" rigid envelope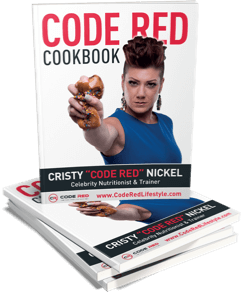 Up until today, the ONLY people who have had access to this water bottle have purchased a Custom Program (prices start at $997 and up).
Now YOU have the ability to get your hands on one of these exclusive water bottles too!
This Stainless Steel Water Bottle holds 27 ounces and comes with a convenient flip top for easy drinking.
Drink 5 of these and you've got your gallon of water in for the day!
Use the carabiner to attach the bottle to your bag so you won't forget it.
For long-lasting use, please hand wash your Code Red water bottle.
Your Price: $19.95 (+$6.95 Shipping & Handling in US or $12.95 For International Orders)